How Can My Business Provide Cost-Effective Payroll and HR Services?
One of the most important parts of owning a business is payroll. It's can also be very costly if not done correctly. In 2019 alone, the IRS issued $4.5 billion dollars in penalties to businesses that incorrectly calculated their payroll taxes. Not only that, but there are also varying salaries, overtime rules, benefit contributions, and many other factors to take into consideration when paying employees. It can be overwhelming for even the smallest of companies and is definitely not a "do-it-yourself" proposition.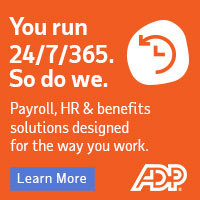 Through our partnership with ADP®, a leading nationwide payroll provider, we offer an affordable option to outsource your payroll.  ADP® makes payroll convenient and cost-effective, regardless of your company's size.  As a payroll client, you can take advantage of a full range of payroll outsourcing services including payroll tax returns, HR, workers' comp insurance, retirement plans, and more. Click on the image to the right or contact us today to learn more.